Penthouse Pet of the Month June 2023 ALICE IRVING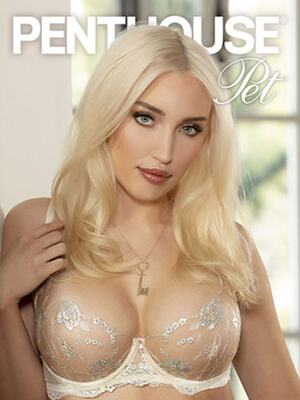 21st Century Penthouse Pets presents free pictures and videos galleries, biography information and interesting links about ALICE IRVING, June 2023 Penthouse Pet of the Month.
Height: 5'2"
Stats: 34DD-26-34

Sophisticated Alice Irving hails from the Great White North - but this French-Canadian cutie is a woman of the world. Our June 2023 Pet of the Month is an avid traveler who speaks French, Spanish, English and Mandarin, but she's also fluent in the language of love. The beautiful blonde purrs, "The art of seduction and the art of conversation are two underrated skills in today's society." The gorgeous gourmet has an appetite for the finer things in life - and craves a partner who shares her taste for new experiences. The petite pinup also admits to having an obsession with her personal evolution as she strives to be the best version of herself she can be. But from our vantage point, Alice is already the epitome of perfection! What do you sleep in? I love to sleep in silk. Silk sheets, silk pajamas and a silk eye mask.